Mr. Koji Suzuki, Asian Disaster Reduction Center (ADRC)
The Asian Disaster Reduction Center (ADRC) was established in Kobe, Hyogo Prefecture, in 1998 with the mission of enhancing the disaster resilience of its member countries, building safe communities, and creating a society where sustainable development is attainable. They are one of the founding members of Sentinel Asia and have played crucial role.

Mr. Koji Suzuki has been serving as Executive Director of the ADRC for more than five years and promoting satellite-based technology/data/information application to disaster risk reduction and disaster management. Currently, he works with Oriental Consultants Global as Senior Advisor and with the Emergency Preparedness Working Group of APEC as Co-Chair (2020-2023). He is also a member of the National Committee for QZSS Technology Application at the Cabinet Office for National Space Policy Secretariat. He served as one of the co-chairs of the Sentinel Asia Steering Committee from 2017 to 2023. The Sentinel Asia Secretariat interviewed Mr. Suzuki about the ADRC's activities and its cooperation with Sentinel Asia.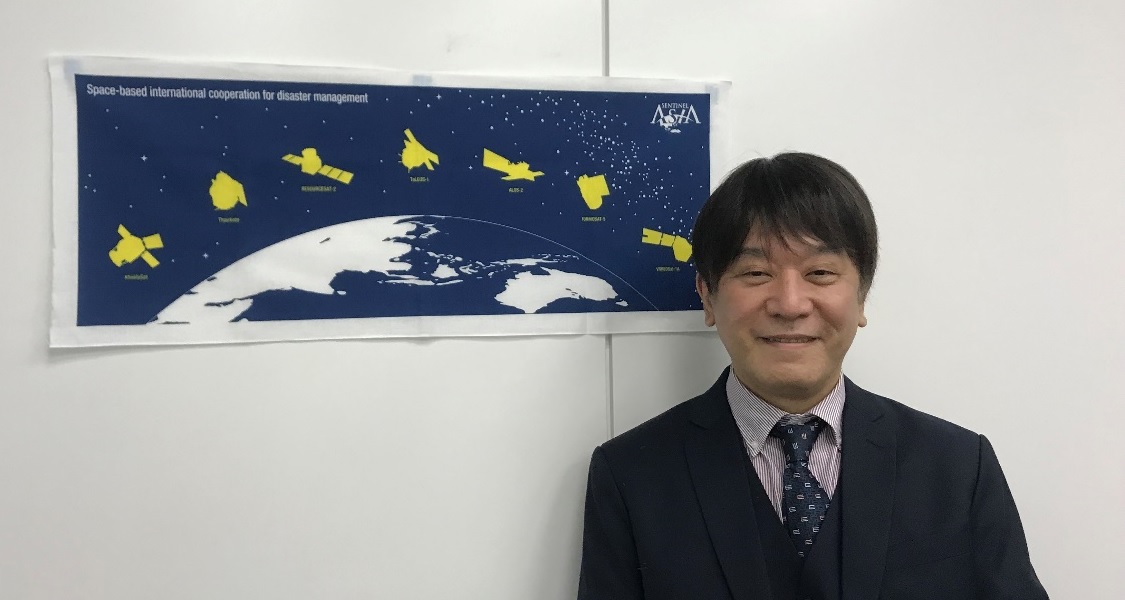 Mr. Koji Suzuki,
Asian Disaster Reduction Center (ADRC)

Sentinel Asia Secretariat
First, on behalf of the Sentinel Asia Secretariat, I would like to thank you for your great contribution to Sentinel Asia from its early days to the present, and especially for taking on the important responsibility of Co-Chair of the Steering Committee from 2017 to the present.
Mr. Koji Suzuki
During my first post at the Asian Disaster Reduction Center (ADRC), I was involved in Capacity Development for remote sensing through the ASEAN Fund of the Ministry of Foreign Affairs (MOFA). There, I was involved in activities to promote the use of earth observation through Capacity Development Programs for local civil servants in disaster management.

I first became involved with Sentinel Asia when I was working at the National Research Institute for Earth Science and Disaster Prevention (NIED), and at that time I was busy learning about remote sensing technologies and the countries involved. The second time I was involved was during my second stint at the ADRC, when I became Chair of the Steering Committee and was involved in the creation of the Strategic Plan. Initially, I was very conscious of the fact that Sentinel Asia is a voluntary-based framework, and I was doubtful whether I would be able to create a Strategic Plan capable of bringing together the members of the Steering Committee. Part of me was scared; however, I did not think too much about it and decided to implement it.
Sentinel Asia Secretariat
The frequency of emergency observations and the types of disasters vary among the participating countries and regions, and I am sure you have had a difficult time organizing the discussions as co-chairpersons amidst the diversity of expectations for Sentinel Asia. Can you talk about what has impressed you most in your role as Co-Chair of the Sentinel Asia Steering Committee?
Mr. Koji Suzuki
It is a great surprise and pleasure that the Lead Agency of the Strategic Plan has taken this activity seriously, even though it is a voluntary activity. We had prepared a Strategic Plan document but had doubts about how far we could accomplish it. I was glad that the Lead Agencies led the implementation.
Sentinel Asia Secretariat
You have been a long-term supporter of Sentinel Asia, even before you became co-chair. What do you consider Sentinel Asia to be in the disaster management community?
Mr. Koji Suzuki
Many of those involved in the disaster management community are not scientists, especially not space-related scientists, so space technology was distant to them. It was a major task to make them aware that space technology could be used for emergency response to disasters. To this end, satellite technology was introduced through Capacity Development and other programs to broaden the scope and build a foundation. At that time, we were asking institutions in various countries to join Sentinel Asia. Some, including some in Japan, wondered what Sentinel Asia could do for them. Recently, institutions wishing to become members have been contacting us on their own. I think this indicates that Sentinel Asia's visibility is spreading and people's views on satellite technology are changing.

We are currently helping to strengthen the disaster management agencies in Nepal and Fiji. One of the items necessary to strengthen as a national disaster management organization is satellite technology, which I believe has now become the standard technology in disaster management. I feel that the times are changing. I was happy to be involved with Sentinel Asia during this transitional period.
Sentinel Asia Secretariat
What was the reaction of initial ADRC member countries when the collaboration between Sentinel Asia and the ADRC started and ADRC member countries were also able to access Sentinel Asia?
Mr. Koji Suzuki
At the beginning of Sentinel Asia's establishment, the ADRC was also in the process of publicizing the use of satellites to its member countries. At that time, there was almost no knowledge of satellites, and the mere mention of the word "satellite" was enough to make the other country stop thinking. When the ADRC did not have much content to publicize, the idea of disaster prevention using satellites was easy to promote. We were very happy to receive the support of JAXA for this. In the meantime, some of the national disaster management organizations in ADRC member countries, such as Turkey and Nepal, have expressed interest in joining Sentinel Asia. Furthermore, the fact that some agencies have expressed interest in becoming Data Analysis Nodes (DANs) leads us to believe that satellite technology is becoming more common. When I think of the time of the inauguration of Sentinel Asia., I feel I am living in a completely different age.
Sentinel Asia Secretariat
Disasters occur day and night, and it is often difficult to verify what is happening. What impact has the addition of space-based observation in collaboration with Sentinel Asia had on the activities of disaster management agencies, including the ADRC?
Mr. Koji Suzuki
I don't think we have reached the point where satellite technology is indispensable yet. Although it has become an indispensable item for emergency response, there is still room to improve its use for risk assessment and other purposes. There are still countries where surveying on the ground is not possible. In such countries, it may be possible to generalize the surveying to include even a rough assessment of water flow. However, there is a high hurdle when it comes to buying data. If there is data that can be used in everyday operations, and if there is analytical technology that can be used to perform risk assessment, I think the scope of the project will expand. In this sense, the Cabinet Office plans to provide free communications service for Early Warning using the Quasi-Zenith Satellite System (QZSS), which is currently being worked on. The QZSS signal receiver is also small and inexpensive, so no large investment is required. Especially in countries with remote islands, currently there is no way to broadcast early warnings directly, but the use of QZSS would be highly feasible, as no loudspeakers or network would be needed.

I think the core of space technology utilization in disaster management is risk assessment and risk monitoring. I think we need to respond here and now, but the challenge is how and what data we can provide to do so.
Sentinel Asia Secretariat
I believe that there have been cases in which ADRC member countries have actually requested emergency observations and obtained satellite data from Sentinel Asia in the event of a disaster. Can you tell us about a memorable case where satellite data was used in an actual disaster response?
Mr. Koji Suzuki
The most memorable one was the explosion in Beirut, Lebanon, where Sentinel Asia was activated by the Turkish Disaster and Emergency Management Presidency (AFAD).
https://sentinel-asia.org/EO/2020/article20200808LB.html
It made an impression on me because it was a non-natural disaster and because we were trying to strengthen cooperation with Turkey at the time.

In addition, satellite observations were essential to grasp the overall picture of the Great East Japan Earthquake of 2011.
https://sentinel-asia.org/EO/2011/article20110311JP.html
https://disasterscharter.org/web/guest/activations/-/article/earthquake-in-japan

These two cases were particularly memorable.
Sentinel Asia Secretariat
Through your experience working with disaster management agencies around the world and as a disaster management-related organization at ADRC, MLIT, and NIED, can you tell us how satellite data can be processed and when it would be useful to provide it to the affected countries' areas? We would also like to hear your thoughts on obtaining local disaster information to improve the accuracy of the information being provided, and on effective and sustainable ways to receive feedback from disaster management agencies.
Mr. Koji Suzuki
A major issue is the timing of when information is received during emergencies. Even if there is good analysis, if it is not received when it is needed, its value will be small. This is a major problem. Seamless timing of observations and seamless timing of analysis would be ideal. It would be nice if there were observations and analysis outside of Sentinel Asia that could fulfill our requirements at the required time, but that is not the case. It would be nice if we could get to that point. I think it is important to be able to provide at the time of emergencies what is most wanted, when it is most wanted. However, responding to emergencies is part of satellite technology, and we still really need to think about what we can offer for risk assessment and monitoring before a disaster occurs. Sentinel Asia is still focused on responding to emergencies, but I think the challenge is to be able to provide data in other phases, including historical data provision. Regarding timing, how to respond to requests from the field is also important. I was on-site during the Great East Japan Earthquake, and on-site there is no room to demand what you want. Ideally, it would be nice if a third-party function could deliver what you want, but I don't think that is possible in a small country. It would be good if, for example, Japan International Cooperation Agency (JICA) or the Asian Disaster Preparedness Center (ADPC) could provide such a function, based on their understanding of the on-site situation.
Sentinel Asia Secretariat
We would also like to hear your thoughts on what kind of capacity building is needed to make effective use of satellite information in the affected countries.
Mr. Koji Suzuki
While capacity building is necessary, it is also important to identify requests for new analytical techniques and data, for example, through capacity development. I think it is important for the participants to develop their capacity, and for the implementers to conduct a survey of their demands and provide feedback to their own organizations.
Sentinel Asia Secretariat
Sentinel Asia is mainly providing remote sensing data after a disaster from participating space agencies, but we would like to hear your opinion on the role of satellite data in disaster management in general. Please let us know if you have any requests for the data provider to contribute to this role.
Mr. Koji Suzuki
For example, risk monitoring in routine operations, such as monitoring land subsidence and water levels in glacial lakes by creating topographies, is mainstream in terms of promoting the use of space technology, especially in areas that are difficult to monitor from the ground. To achieve this, collaboration with the local community is essential. Validation of the analysis results also requires collaboration with the local community.
Sentinel Asia Secretariat
I would like to hear any opinions you may have about the future expansion and development of Sentinel Asia's activities. In particular, we would be happy to hear your outlook on your efforts to realize STEP 3.
Mr. Koji Suzuki
We hope to put people at the site who will agitate space utilization in a positive way. Senior volunteers could serve in such a role. I believe that this will broaden the scope of space utilization and stimulate demand. I think it is very important to be close to the site.
Sentinel Asia Secretariat
With recent climate change, the scale and frequency of pre-disasters are said to be increasing. What are your expectations for Sentinel Asia in the future?
Mr. Koji Suzuki
We are currently collaborating with Kyoto University, ICHARM, the Meteorological Research Institute, and others under the Ministry of Education, Culture, Sports, Science and Technology's "Advanced Research Program for Climate Change Prediction". This is a downscaled projection of the effects of climate change and a disaster response based on this projection. We are wondering if satellite technology could be utilized here. I think there are two ways to think about climate change: studying trends and creating dynamic models. There is interest in using satellite technology for modeling, but no conclusion has been reached. We are also interested in developing dynamic risk and hazard maps with several flexible parameters, and we believe that satellite technology can be used for this purpose. We are considering the possibility of not only modeling the current situation, but also varying patterns of different situations.
Sentinel Asia Secretariat
Can you share with us some of the most memorable moments of Sentinel Asia's activities?
Mr. Koji Suzuki
Sentinel Asia is now a mainstay of the ADRC's activities, for which we are grateful. I appreciate that they gave me an opportunity to make myself involved in Sentinel Asia, which has allowed the ADRC to expand its activities to the use of Quasi-Zenith Satellites. Even though I am not a satellite expert myself, the National Space Policy Secretariat's QZSS Strategy Office asked me to help. This would not have been possible had I not been involved with Sentinel Asia. Sentinel Asia's activities are a great asset to me.
---